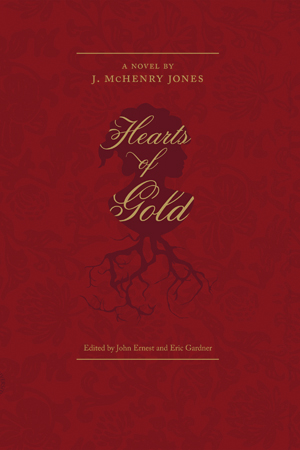 J. McHenry Jones
Edited by John Ernest and
Eric Gardner
February 2010
288pp
PB  978-1-933202-53-2
$22.95
HC  978-1-933202-52-5
$68.95
PDF  978-1-935978-01-5
$21.99
PDF  (120 Days)
$10.00
Series: Regenerations
Summary
J. McHenry Jones's Hearts of Gold is a gripping tale of post–Civil War battles against racism and systemic injustice. Originally published in 1896, this novel reveals an African American community of individuals dedicated to education, journalism, fraternal organizations, and tireless work serving the needs of those abandoned by the political process of the white world. Jones challenges conventional wisdom by addressing a range of subjects—from interracial relationships to forced labor in coal mines—that virtually no other novelist of the time was willing to approach. With the addition of an introduction and appendix, this new edition reveals the difficult foundations upon which African Americans built a platform to address injustice, generate opportunities, and play a prominent role in American social, economic, and political life.
Contents
Acknowledgments
Introduction   by John Ernest and Eric Gardner
Hearts of Gold
Appendix A.
  The Speech of James McHenry Jones, Wheeling's Magnet Colored Orator, Seconding the Nomination of George W. Atkinson for Governor, at Parkersburg (1896)
Appendix B.
  Jones's speech to the British Grand United Order of Odd Fellows 1897 Annual Conference
Appendix C.
  Advertisement from the Charleston Advocate
Appendix D.   Jones, "The West Virginia Colored Institute" (1907)
Appendix E.
  Jones, "Biographical Sketch of S. W. Starks" (1908)
Appendix F.
  Jones, "The Epworth League and the Enthronement of Christ" (1909)
Author
Educator, orator, and activist J. McHenry Jones (1859–1909) grew up in eastern Ohio. A descendant of African American tradespeople and farmers, Jones chose a career in education. He became the principal of the Lincoln School in Wheeling, West Virginia, and then later spurred more than a decade of growth at the West Virginia Colored Institute (now West Virginia State University) as the Institute's president. Overshadowed by a modern fascination with Booker T. Washington, Jones not only remained independent from the Washington machine but also carved out niches in state and national Republican party politics, African American societies like the Grand Order of the Odd Fellows, and interracial religious organizations like the Epworth League. Although the multi-talented Jones reportedly authored a handful of novels, critics have located only his 1896 Hearts of Gold, a rich story of Black life at the turn into the twentieth century.
John Ernest is Chair and Professor of English at the University of Delaware.
Eric Gardner is Chair, Braun Fellow, and Professor of English at Saginaw Valley State University.
Reviews
" The first of a projected series of out-of-print West Virginia literary works by African American writers. An extensive introduction and six appendices provide fascinating context for a love story set among convict coal miners in West Virginia."
Appalachian Heritage
" A groundbreaking novel."
Phyllis Wilson Moore, Journal of Appalachian Studies
"[This] series will expand the scholarly discussion about the ways in which such texts help us to rethink the field and insure that the books will be taught in the classroom and thereby be sustained for the next generation. . . . Professors Ernest and Moody have the expertise to insure the highest quality for these aspects of publication."
Sharon Harris, Director, Humanities Institute and Professor of English, University of Connecticut
"As the editor of African American Review, Joycelyn K. Moody has had her finger on the pulse of new scholarship. . . . [while] John Ernest [is] a scholarly editor whose work is careful, insightful, and accessible."
Frances Smith Foster, Charles Howard Candler Professor of English and Women's Studies, Emory University
"This [series] recognizes the enhanced role of the archive in literary research—research libraries and historical societies that have preserved the letters and papers of non-canonical writers. Such authors, whose work has been neglected are now being presented in the scholarship of literary critics as they expand the definition of the canon and revise its interpretation."  
Caroline F. Sloat, Director of Book Publication, American Antiquarian Society
"[Regenerations: African American Literature and Culture] has the potential to be a vital, exciting series that will make available neglected texts that can help us to rethink African American literary and cultural traditions."
Robert S. Levine, Distinguished Scholar-Teacher, University of Maryland