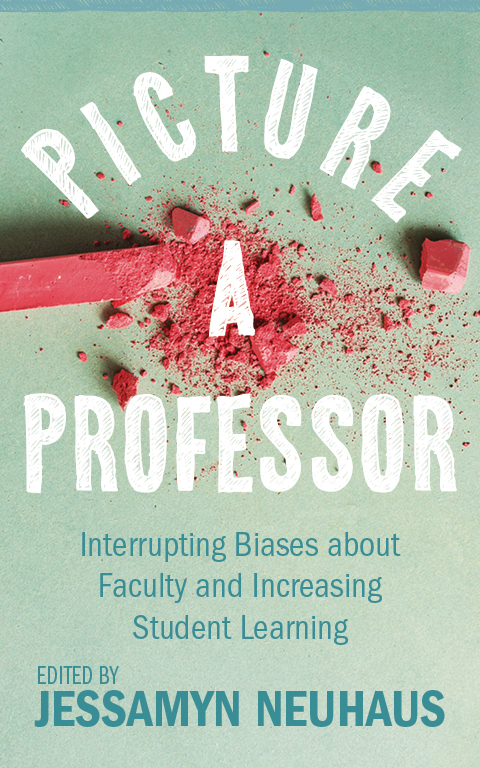 Edited by Jessamyn Neuhaus
Available now!
November 2022
296pp
PB 978-1-952271-67-0
$24.99
eBook 978-1-952271-68-7
$24.99
Teaching and Learning in Higher Education Series
Picture a Professor
Interrupting Biases about Faculty and Increasing Student Learning
Summary
Picture a Professor is a collection of evidence-based insights and intersectional teaching strategies crafted by and for college instructors. It aims to inspire transformative student learning while challenging stereotypes about what a professor looks like.
Representing a variety of scholarly disciplines, the volume's contributing authors offer practical advice for effectively navigating student preconceptions about embodied identity and academic expertise. Each contributor recognizes the pervasiveness of racialized, gendered, and other biases about professors and recommends specific ways to respond to and interrupt such preconceptions—helping students, teachers, and others reenvision what we think of when we picture a professor.
Educators at every stage of their career will find affirming acknowledgment of the ways systemic inequities affect college teaching conditions, as well as actionable advice about facilitating student learning with innovative course design, classroom activities, assessment techniques, and more.

---
Receive a 30% discount on orders of 10 or more copies of this title with code HIGHEREDBULK30 at checkout.
Contents
Introduction: Embodied Identity, Empowering Pedagogy, and Transformative Learning
Jessamyn Neuhaus
Part One
The First Day: Strategies for Starting Strong
1. How Blind Professors Win the First Day: Setting Ourselves Up for Success
Sheri Wells-Jensen, Emily K. Michael, and Mona Minkara
2. Critical Reflexivity as a Tool for Students Learning to Recognize Biases: A First Day of Class Conversation on What a Professor Looks Like
Jesica Siham Fernández
3. Commonalities and Research: A One-Two Punch to Combat STEM Fears and Biases on the First Day of Class
Kelly E. Theisen
4. Where's the Professor? First-Day Active Learning for Navigating Students' Perceptions of Young Professors
Reba Wissner
Part Two
Making Connections: Strategies for Building Trust and Rapport with Students
5. Using Experiential Learning to Humanize Course Content and Connect with Students
Breanna Boppre
6. Collaborative Rubric Creation as a Queer, Transgender Professor's Tactic for Building Trust in the Classroom
Fen Kennedy
7. Reflect to Deflect: Using Metacognitive Activities to Address Student Perceptions of Instructor Competence and Caring
Melissa Eblen-Zayas
8. From Absentminded Professor to Epistemic Collaborator: Reframing Academic Expertise through Vulnerability and Metacognition
Rebecca Scott
9. Black Man in a Strange Land: Using Principles of Psychology and Behavior Science to Thrive in the Classroom
Erik Simmons
Part Three
Anti-Racist Pedagogies: Strategies for Increasing Equity
10. Beyond Making Statements: The Reflective Practice of Becoming an Anti-Racist Educator
M. Gabriela Torres
11. Rippling the Patterns of Power: Enacting Anti-Racist Pedagogy with Students as Co-teachers
Chanelle Wilson and Alison Cook-Sather
12. Beyond "Good Writing": Enacting Anti-Racist Policies in Academic Writing
Jacinta Yanders and Ashley JoEtta
Part Four
Teaching with Our Whole Selves: Strategies for Instructional Authenticity and Pedagogical/Professional Success
13. The Superpowers of Visual Ambiguity: Transfiguring My Experience of Colorism and Multiheritage Identity for Educational Good
Donna Mejia
14. Sharing Our Stories to Build Community, Highlight Bias, and Address Challenges to Authority
Sarah Mayes-Tang
15. Teaching Up: Bringing My Blackness into the Classroom
Celeste Atkins
16. Empowered Strategies for Women Faculty of Color Navigating Teaching Inequities in Higher Ed
Chavella T. Pittman
Index
Editor
Jessamyn Neuhaus is a professor of history and Center for Teaching Excellence director at SUNY Plattsburgh. Recipient of the SUNY Chancellor's Award for Teaching Excellence, she is the author of two historical monographs, numerous articles, and Geeky Pedagogy: A Guide for Intellectuals, Introverts, and Nerds Who Want to Be Effective Teachers.
Reviews
"Does a service to all who would prefer a different path, offering realistic strategies to engage students in undermining scholarly stereotypes."
Science
"Raising awareness of challenges diverse instructors can face when teaching in higher ed classrooms and sharing empowering and tested solutions are both much needed. Picture a Professor does both and more. Grounded in the experiences of scholars teaching in the classroom, the book is a valuable resource for instructors, administrators, those responsible for promotion and tenure decisions, and educational developers partnering with a diverse faculty. Much praise to Jessamyn Neuhaus and chapter authors for addressing the often undiscussed truth that not all instructors who teach are afforded the same privileges."
Tracie Marcella Addy, coauthor of What Inclusive Instructors Do: Principles and Practices for Excellence in College Teaching
"In this collection, the authors weave scholarship, personal narratives, and practical teaching ideas into an intersectional call to action that, when reflectively implemented, will positively transform our college classrooms for years to come."
Travis Thurston, coeditor of Resilient Pedagogy: Practical Teaching Strategies to Overcome Distance, Disruption, and Distraction