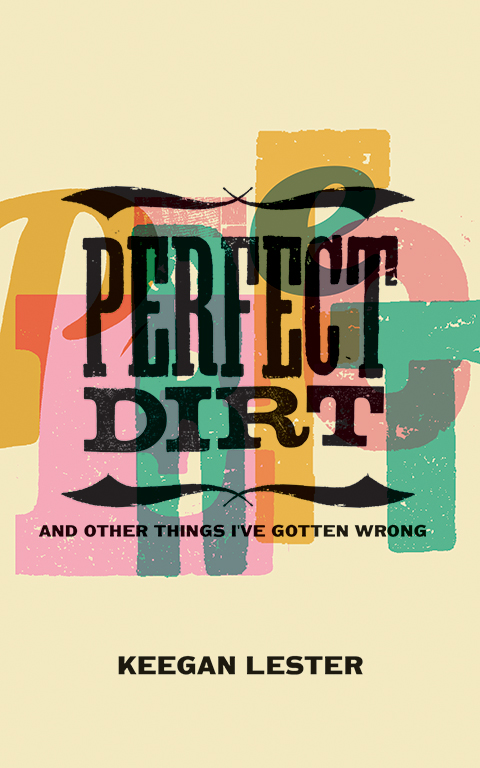 Keegan Lester
Available now!
November 2021
272pp
PB 978-1-952271-29-8
$23.99
eBook 978-1-952271-30-4
$23.99
Perfect Dirt
And Other Things I've Gotten Wrong
Summary
Words have meaning and meaning evolves over time. In Perfect Dirt, Keegan Lester drags us through his failure to grasp the meaning that always seems to be just beyond his fingertips. These lyrical vignettes depict a lifelong search for home, identity, and the language to say the things we wish we could tell people in the moment.
Born in Southern California to parents who had migrated from West Virginia and South Florida, Lester spent summers with his grandparents in Morgantown, which instilled a deep anchor of place that continued to call to him, an Appalachian at heart even while living in New York City as a poet. As small successes started to come his way—a book and numerous tours—so did crises. Lester's father, meanwhile, experiencing his own life crisis, embarked on a journey to sail the Caribbean. Both end up lost.
Part memoir, part tour diary, part homage to the places and people who have made him who he is, Perfect Dirt digs into the sometimes painful, sometimes jubilant questions of identity and success. This is a book searching to better understand the world and our place in it, the family we're born into, and the family we make along the way.
Contents
part one
for all my strangers
welch
a snapshot
cardinals staining the air we breathe
shane rooney
the way in which wind moves
part two
tour diary: huntington, west virginia
peaches
a year later, in philly
on writing a book
political poem
train gravity
part three
tour diary: alabama
grandma
christmas is a big deal in my family
a few weeks before thanksgiving my dad says
ernest
my flatbush friends
west virginia day
part four
tour diary: day off in morgantown
my grandpa rice
tour diary: charleston show
sometimes my sister is too good at giving christmas presents
tour diary: lewisburg
tour diary in the south: putting more heart in our heartbreak
there were also readings
graduation
part five
the doldrums
when my father got lost at sea i start doing things i normally don't do
ain't, ain't a word
another thing i wonder about while my father is lost at sea
not long ago, i'd gone to a class in west virginia
my mother is speaking in a voice, but it's not my mother's voice
i don't think he knows how to use his phone
one day while i was on tour, my friend bryan, who's super into ghost stories, the occult, metal music, and zines, says
father's day
home
acknowledgments

Author
Keegan Lester is the author of this shouldn't be beautiful but it was and it was all i had so i drew it, selected by Mary Ruefle for the 2016 Slope Editions Book Prize. His writing has been published in Ploughshares, the Boston Review, Cutbank, Hobart, and Vol. 1 Brooklyn, among others. He lives in New York City.
Reviews
"In Perfect Dirt, tenderness is so tangible, so electric. You feel it when a grandpa hoists a young Keegan Lester up so he can feed wild horses sugar cubes, you hear it when a grandma speaks thunder, it embraces you each time Lester holds close the good people of West Virginia. But this tenderness is also thorny: it sparks in the quiet togetherness of men, it leaps around a father lost at sea, it underscores loss and regret. Keegan Lester is an immensely gifted writer. This book will stay with you."
Eduardo C. Corral, author of Guillotine
"Keegan Lester's writing and storytelling about West Virginia and its people feel how West Virginia's landscape feels to me—like I'm being hugged and protected. Perfect Dirt reminds us that we can love a place and still be critical when it's done out of love and tenderness. This book has brought me back home in the best ways, with a newer, more open heart, mind, and body."
Steven Dunn, author of water & power
"Places are fleshed out alongside people, with West Virginia being the book's star. . . . In breathtaking, nuanced prose, Lester tackles the human experience. . . . Powerful and insightful."
Foreword Reviews
"Reading Perfect Dirt is like a long, beautiful conversation with a stranger you just met at a backyard barbeque. . . . There's an effervescence of beautiful sentences in this book, an optimism that tugboats you from one scene to the next. . . . His longings remind me of Breece D'J Pancake."
Adroit Journal