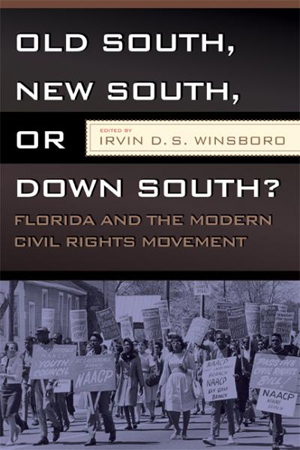 Edited by
Irvin D. S. Winsboro
November 2009
352pp
PB 978-1-933202-44-0
$24.95
PDF 978-1-935978-00-8
$23.99
PDF (120 days)
$10.00
Purchase the Kindle Edition at Amazon
Summary
How does a state, tarnished with a racist, violent history, emerge from the modern civil rights movement with a reputation for tolerance and progression? Old South, New South, or Down South?: Florida and the Modern Civil Rights Movement exposes the image, illusion, and reality behind Florida's hidden story of racial discrimination and violence. By exploring multiple perspectives on racially motivated events, such as black agency, political stonewalling, and racist assaults, this collection of nine essays reconceptualizes the civil rights legacy of the Sunshine State. Its dissection of local, isolated acts of rebellion reveals a strategic, political concealment of the once dominant, often overlooked, old south attitude towards race in Florida.
2010 Harry T. and Harriette V. Moore Award Recipient
Contents
Preface and Acknowledgements

Introduction: Image, Illusion, and Reality: Florida and the Modern Civil Rights Movement in Historical Perspective
Irvin D. S. Winsboro
The Illusion of Moderation: A Recounting and Reassessing of Florida's Racial Past
Marvin Dunn
From Old South to New South, or Was It?: Jacksonville and the Modern Civil Rights Movement in Florida
Abel A. Bartley
Brotherhood of Defiance: The State-Local Relationship in the Desegregation of Lee Country Public Schools, 1954–1969
Irvin D. S. Winsboro

Toms and Bombs: The Civil Rights Struggle in Daytona Beach

Leonard R. Lempel

Planting the Seeds of Racial Equality: Florida's Independent Black Farmers and the Modern Civil Rights Era
Connie L. Lester
Justice Delayed Is Justice Denied: Florida's "Public Mischief" Defense and Virgil Hawkins's Protracted Legal Struggle for Racial Equality
Amy Sasscer
"Wait" Has Almost Always Meant "Never": The Long Road to School Desegregation in Palm Beach County
Lise M. Steinhauer
The Triumph of Tradition: Haydon Burns's 1964 Gubernatorial Race and the Myth of Florida's Moderation
Abel A. Bartley
From Old South Experiences to New South Memories: Virginia Key Beach and the Evolution of Civil Rights to Public Space in Miami
Gregory W. Bush
Afterword: Old South, New South, or Down South?: Florida and the Modern Civil Rights Movement: Towards a New Civil Rights History in Florida
Paul Ortiz

Contributors

Index
Author
Irvin D.S. Winsboro is professor of history, African American studies, and Florida studies at Florida Gulf Coast University. He is the author of Feminism and Black Activism in Contemporary America: An Ideological Assessment, and numerous other works and articles.
Contributors Include: Abel A. Bartley, Gregory Bush, Marvin Dunn, Leonard R. Lempel, Connie L. Lester, Paul Ortiz, Amy Sasscer, Lise M. Steinhauer.
Reviews
"Local histories, based on research in grass-roots communities, often challenge the stereotypes we have been taught. These superb essays explode the myth of Florida as an 'exceptional' state noted for its 'moderation' in race relations. Instead, they show vividly the degree to which racism—and black resistance—were as endemic to Florida as they were to Mississippi. Winsboro's book is a powerful tribute to the long history of black struggle in Florida, the entrenched barriers that had to be overcome, and the effectiveness of historians of Florida in revealing the truth of the state's past."
William H. Chafe, Alice Mary Baldwin Professor of History, Duke University
"This is revisionism as it's meant to be: careful research that examines a major issue and as a result fundamentally changes how we think about something we thought we knew. It will be an important, much cited, and respected book."
John B. Boles, Professor of History, Rice University and Editor, Journal of Southern History
"This study stikes a serious blow at the misperception of Florida's progressive past by examining its civil rights history. In this vein, it provides enriching essays that shed more light on the Jim Crow era and civil rights movement in Florida and places the Sunshine State in its proper historical place alongside other deep South states like Mississippi, Georgia, and Alabama."
David H. Jackson, Professor of History & Chairman of Department of History, Political Science, Public Administration, Geography and African American Studies, Florida A&M University
"These thoroughly researched and well-written essays directly challenge the conventional wisdom that Florida followed a more moderate form of Jim Crow than its southern peers. This collection chronicles the agonizing history of segregation and repression in the state, and demonstrates conclusively that only after long and persistent struggles by African Americans at the community level and intervention by the federal government was Florida finally forced to modify its resistance to civil rights reform. By reconceptualizing the struggle for civil rights in Florida, this book also advances the national project of rewriting America's racial history."
Ronald L. Lewis, Stuart and Joyce Robbins Chair and Professor Emeritus of History, West Virginia University
"This collection of authors—all either Florida natives or professors in the state—outlines the contours of an interplay of repression and liberation that enriches the understanding of past battles (in curriculum, work, law, and public space) and provides context for those battles in the nation that are yet to be waged."
Stephanie Y. Evans, The Journal of American History