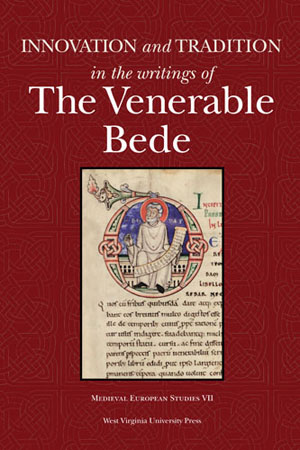 Edited by
Scott DeGregorio
2006
287pp
PB: 978-1-933202-09-9
$44.95
PDF: 978-1-935978-29-9
$43.99
PDF (120 days)
$20.00

Summary
Works prior to this book focused on Bede as not only a European, but also as an English scholar, historian, scientist, or a biographer of saints, and have used a traditional approach towards his explanation of the Bible. Bede's interpretation of his work, its continuous progress, and the reasons behind his hurried appointment to an authority almost as high as the Church Fathers are all topics examined within the text. Essays are by Roger Ray, Faith Wallis, Calvin B. Kendall, George Hardin Brown, Scott DeGregorio, Arthur G. Holder, Lawrence T. Martin, Walter Goffart, and Joyce Hill.
Contents
Acknowledgments
List of Abbreviations
Introduction: The New Bede
Who Did Bede Think He Was?
Roger Ray
Bede And The Ordering Of Understanding
Alan Thacker
Si naturam quaeras: Reframing Bede's "Science"
Faith Wallis
The Responsibility of Auctoritas: Method and Meaning in Bede's Commentary on Genesis
Calvin B. Kendall
Bede's Neglected Commentary on Samuel
George Hardin Brown
Footsteps of his Own: Bede's Commentary on Ezra-Nehemiah
Scott DeGregorio
Christ as Incarnate Wisdom in Bede's Commentary on the Song of Songs
Arthur G. Holder
Bede's Originality in his Use of the Book of Wisdomin his Homilies on the Gospels
Lawrence T. Martin
Bede's History in a Harsher Climate
Walter Goffart
Carolingian Perspectives on the Authority of Bede
Joyce Hill
Bibliography
Contributors
Author
Scott DeGregorio is Professor of Medieval Renaissance, Classical, and Biblical Literature at the University of Michigan-Deerborn. Besides Innovation and Tradition, he has also been involved with Bede: On Ezra and Nehemiah and Bede, the Monk, as Exegete: Evidence from the Commentary on Ezra-Nehemiah, among others.
Reviews
"Innovation and Tradition in the Writings of the Venerable Bede demonstrates the vitality of current scholarship and testifies to a remarkable unity in diversity of critical perspectives on Bede the exegete, "scientist," social reformer, and pedagogue, as well as historian. The Bede who emerges from these new essays was a leading light not only of early England, but also of medieval European culture at large."
Christopher A. Jones, Ohio State University
"This collection of essays (together with an excellent, up-to-date bibliography running to over thirty pages) is testament to the strength and vitality of Bedan studies."
Deborah McGrady, Speculum